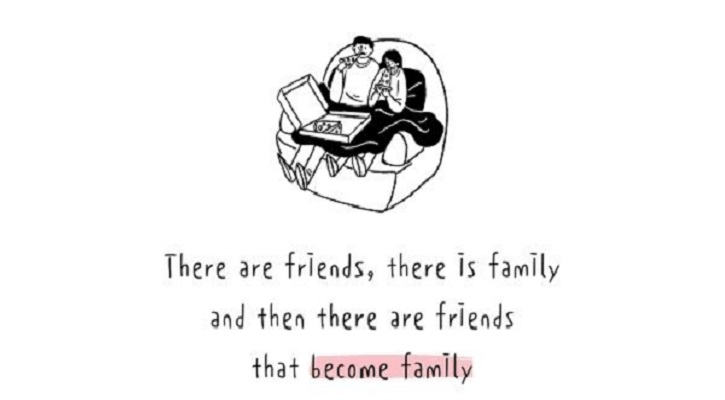 55 True Friendship Quotes
Women‍‍`s Corner
March 13, 2023
"A friend knows the song in my heart and sings it to me when my memory fails." You can read more about Friendship Quotes to Celebrate with Your Bestie
1. "I choose my friends for their good looks, my acquaintances for their good characters, and my enemies for their good intellects." ― Oscar Wilde
2. "That's what people do who love you. They put their arms around you and love you when you're not so lovable." ― Deb Caletti
3. "Piglet noticed that even though he had a Very Small Heart, it could hold a rather large amount of Gratitude." ― A.A. Milne, Winnie-the-Pooh
4. "I think I fell in love with her, a little bit. Isn't that dumb? But it was like I knew her. Like she was my oldest, dearest friend. The kind of person you can tell anything to, no matter how bad, and they'll still love you, because they know you. I wanted to go with her. I wanted her to notice me. And then she stopped walking. Under the moon, she stopped. And looked at us. She looked at me. Maybe she was trying to tell me something; I don't know. She probably didn't even know I was there. But I'll always love her. All my life." ― Neil Gaiman, The Sandman Vol. 8: Worlds' End
You can read Some Positive Age Quotes
5. "Everyone wants to ride with you in the limo, but what you want is someone who will take the bus with you when the limo breaks down." ― Oprah Winfrey
6. "It's so curious: one can resist tears and 'behave' very well in the hardest hours of grief. But then someone makes you a friendly sign behind a window, or one notices that a flower that was in bud only yesterday has suddenly blossomed, or a letter slips from a drawer... and everything collapses. " ― Colette
7. "I wish I had more friends, but people are such jerks. If you can just get most people to leave you alone, you're doing good. If you can find even one person you really like, you're lucky. And if that person can also stand you, you're really lucky." ― Bill Watterson, The Complete Calvin and Hobbes
8. "There's not a word yet, for old friends who've just met." ― Jim Henson, Favorite Songs from Jim Henson's Muppets
9. "You can make more friends in two months by becoming interested in other people than you can in two years by trying to get other people interested in you." ― Dale Carnegie, How to Win Friends and Influence People
10. "You must remember, family is often born of blood, but it doesn't depend on blood. Nor is it exclusive of friendship. Family members can be your best friends, you know. And best friends, whether or not they are related to you, can be your family." ― Trenton Lee Stewart, The Mysterious Benedict Society
11. "What was there to be gained by fighting the most evil wizard who has ever existed?" said Black, with a terrible fury in his face. "Only innocent lives, Peter!"
"You don't understand!" whined Pettigrew. "He would have killed me, Sirius!"
"THEN YOU SHOULD HAVE DIED!" roared Black. "DIED RATHER THAN BETRAY YOUR FRIENDS, AS WE WOULD HAVE DONE FOR YOU!"
― J.K. Rowling, Harry Potter and the Prisoner of Azkaban
You can read 52 Thomas Carlyle Quotes About Life
12. "I enjoyed the meetings, too. It was like having friends." ― J.K. Rowling, Harry Potter and the Half-Blood Prince
13. "A good friend keeps your secrets for you. A best friend helps you keep your own secrets." ― Lauren Oliver , Before I Fall
14. "I don't care about whose DNA has recombined with whose. When everything goes to hell, the people who stand by you without flinching--they are your family." ― Jim Butcher, Proven Guilty
15. "Our perfect companions never have fewer than four feet." ― Colette
16. "Friends are the family you choose (~ Nin/Ithilnin, Elven rogue)." ― Jess C Scott, The Other Side of Life
17. "My heart is warm with the friends I make,
And better friends I'll not be knowing,
Yet there isn't a train I wouldn't take,
No matter where it's going."
― Edna St. Vincent Millay, The Selected Poetry
18. "We...we could be friends.'
We COULD be rare specimens of an exotic breed of dancing African elephants, but we're not. At least, I'M not." ― Neil Gaiman, Coraline
You can read Timeless Quotes By John Keats That Will Touch Your Heart
19. "Our true friends are those who are with us when the good things happen. They cheer us on and are pleased by our triumphs. False friends only appear at difficult times, with their sad, supportive faces, when, in fact, our suffering is serving to console them for their miserable lives." ― Paulo Coelho, The Zahir
20. "Close friends are truly life's treasures. Sometimes they know us better than we know ourselves. With gentle honesty, they are there to guide and support us, to share our laughter and our tears. Their presence reminds us that we are never really alone."
― Vincent van Gogh
21. "Four be the things I am wiser to know:
Idleness, sorrow, a friend, and a foe.
Four be the things I'd been better without:
Love, curiosity, freckles, and doubt.
Three be the things I shall never attain:
Envy, content, and sufficient champagne.
Three be the things I shall have till I die:
Laughter and hope and a sock in the eye."
― Dorothy Parker, The Complete Poems of Dorothy Parker
22. "If you hang out with chickens, you're going to cluck and if you hang out with eagles, you're going to fly." ― Steve Maraboli, Unapologetically You: Reflections on Life and the Human Experience
23. "Like all of my friends, she's a lousy judge of character." ― David Sedaris, Me Talk Pretty One Day
You can read Sarah Palin Author of Going Rogue‍‍`s Quotes
24. "A friend is one to whom one may pour out the contents of one's heart, chaff and grain together, knowing that gentle hands will take and sift it, keep what is worth keeping, and with a breath of kindness, blow the rest away." ― Dinah Maria Craik
25. "It is easy enough to be friendly to one's friends. But to befriend the one who regards himself as your enemy is the quintessence of true religion. The other is mere business." ― Mahatma Gandhi
26. "The only way to have a friend is to be one." ― Ralph Waldo Emerson
27. "How would your life be different if…You walked away from gossip and verbal defamation? Let today be the day…You speak only the good you know of other people and encourage others to do the same." ― Steve Maraboli, Life, the Truth, and Being Free
28. "I don't suppose you have many friends. Neither do I. I don't trust people who say they have a lot of friends. It's a sure sign that they don't really know anyone." ― Carlos Ruiz Zafón, The Angel's Game
29. "Friendship," said Christopher Robin, "is a very comforting thing to have." ― A.A. Milne
30. "A friend is a person with whom I may be sincere. Before him I may think aloud. I am arrived at last in the presence of a man so real and equal, that I may drop even those undermost garments of dissimulation, courtesy, and second thought, which men never put off, and may deal with him with the simplicity and wholeness with which one chemical atom meets another." ― Ralph Waldo Emerson , Essays: First Series
You can read Jokes About President Barack Obama
31. "A wise man gets more use from his enemies than a fool from his friends." ― Baltasar Gracian, The Art of Worldly Wisdom
32. "No man can be called friendless who has God and the companionship of good books." ― Elizabeth Barrett Browning
33. "Watson. Come at once if convenient. If inconvenient, come all the same." ― Arthur Conan Doyle, Adventure of the Creeping Man
34. "When you loved someone and had to let them go, there will always be that small part of yourself that whispers, "What was it that you wanted and why didn't you fight for it?" ― Shannon L. Alder
35. "Life is painful and messed up. It gets complicated at the worst of times, and sometimes you have no idea where to go or what to do. Lots of times people just let themselves get lost, dropping into a wide open, huge abyss. But that's why we have to keep trying. We have to push through all that hurts us, work past all our memories that are haunting us. Sometimes the things that hurt us are the things that make us strongest. A life without experience, in my opinion, is no life at all. And that's why I tell everyone that, even when it hurts, never stop yourself from living." ― Alysha Speer
36. "This book taught me, once and for all, how easily you can escape this world with the help of words! You can find friends between the pages of a book, wonderful friends." ― Cornelia Funke, Inkspell
You can read Political Quotes by Kurt Vonnegut
37. "Don't worry if people think you're crazy. You are crazy. You have that kind of intoxicating insanity that lets other people dream outside of the lines and become who they're destined to be." ― Jennifer Elisabeth, Born Ready: Unleash Your Inner Dream Girl
38. "Never explain―your friends do not need it and your enemies will not believe you anyway." ― Elbert Hubbard
39. "Friends are God's way of apologizing for your family." ― Wayne W. Dyer, The Power of Intention
40. "True friends are like diamonds – bright, beautiful, valuable, and always in style." ― Nicole Richie
41. "Things that matter are not easy. Feelings of happiness are easy. Happiness is not. Flirting is easy. Love is not. Saying you're friends is easy. Being friends is not." ― David Levithan, Naomi and Ely's No Kiss List
42. "I think it happens to everyone as they grow up. You find out who you are and what you want, and then you realize that people you've known forever don't see things the way you do. And so you keep the wonderful memories, but find yourself moving on." ― Nicholas Sparks, True Believer
43. "I want to be around people that do things. I don't want to be around people anymore that judge or talk about what people do. I want to be around people that dream and support and do things." ― Amy Poehler
You can read Top Rick Perry quotes
44. "Unreal friendship may turn to real
But real friendship, once ended, cannot be mended" ― T.S. Eliot, Murder in the Cathedral
45. "I get by with a little help from my friends." ― John Lennon
46. "The real loneliness is living among all these kind people who only ask one to pretend!" ― Edith Wharton, The Age of Innocence
47. "What do you most value in your friends?
Their continued existence." ― Christopher Hitchens, Hitch 22: A Memoir
48. "7 things negative people will do to you. They will...
1. Demean your value;
2. Destroy your image
3. Drive you crazily!
4. Dispose your dreams!
5. Discredit your imagination!
6. Deframe your abilities and
7. Disbelieve your opinions!
Stay away from negative people!" ― Israelmore Ayivor
You can read Funny Quotes by Winston Churchill
49. "Be silent and safe — silence never betrays you;
Be true to your word and your work and your friend;
Put least trust in him who is foremost to praise you,
Nor judge of a road till it draw to the end."
― John Boyle O'Reilly, Life of John Boyle O'Reilly
50. "Your Worst Enemy Could Be Your Best Friend && Your Best Friend Your Worst Enemy" ― Bob Marley"
51. Friends are a strange, volatile, contradictory, yet sticky phenomenon. They are made, crafted, shaped, molded, created by focused effort and intent. And yet, true friendship, once recognized, in its essence is effortless.
Best friends are formed by time.
Everyone is someone's friend, even when they think they are all alone.
If the friendship is not working, your heart will know. It's when you start being less than perfectly honest and perfectly earnest in your dealings. And it's when the things you do together no longer feel right.
However, sometimes it takes more effort to make it work after all.
Stick around long enough to become someone's best friend."
― Vera Nazarian, The Perpetual Calendar of Inspiration
You can read Quotes From Winston Churchill On Leadership
52. "I wanted to talk to someone. But who? It's moments like this, when you need someone the most, that your world seems smallest." ― David Levithan, Dash & Lily's Book of Dares
53. "It is more shameful to distrust our friends than to be deceived by them." ― Confucius
54. "If you can sit in silence with a person for half an hour and yet be entirely comfortable, you and that person can be friends. If you cannot, friends you'll never be and you need not waste time in trying." ― L.M. Montgomery, The Blue Castle
55. "For a friend with an understanding heart is worth no less than a brother" ― Homer, The Odyssey