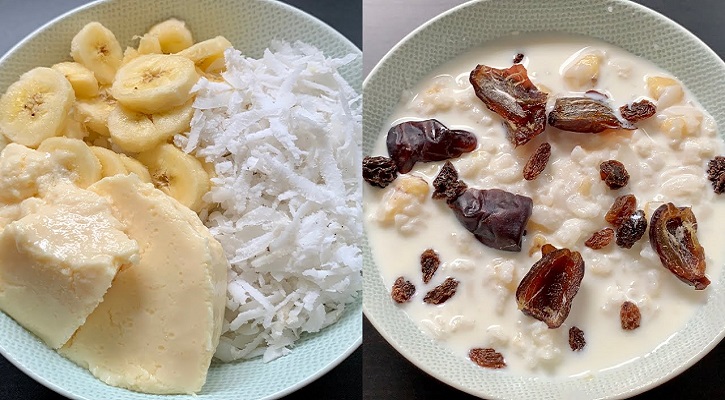 Yogurt With Banana And Flattened Rice
Women‍‍`s Corner
September 8, 2022
Doi Chira is a authentic Bangladeshi food. In this recipe flat rice or chira soaked several hours in water then mix with yogurt, sugar, banana or some sweet fruits.
Ingredients:
- Tok doi(plain yogurt)/Curd - 1 1/2 cup
- Chira/Poha/flattened rice - 1/4 cup
- Muri - 1 cup
- Sugar - 2-3 tablespoon or to taste
- Salt - a pinch
- Banana - 2 large
- Mango - 1 cup sliced fresh or frozen
- Bedana - as required for garnishing
Read More: How to Make Mayo at Home ?
Method: Wash and drain chira and muri. Soak the chira and muri into water until soft or at least 2 hours. Once soft, then drain all water. In a bowl mix yogurt, salt and sugar. Now mix soaked chira-muree into yogurt mixture. Keep into refrigerator for one hour, Garnish with chopped banana, sliced mango and bedana. Serve chilled.
This recipe is taken from http://zuranazrecipe.com/