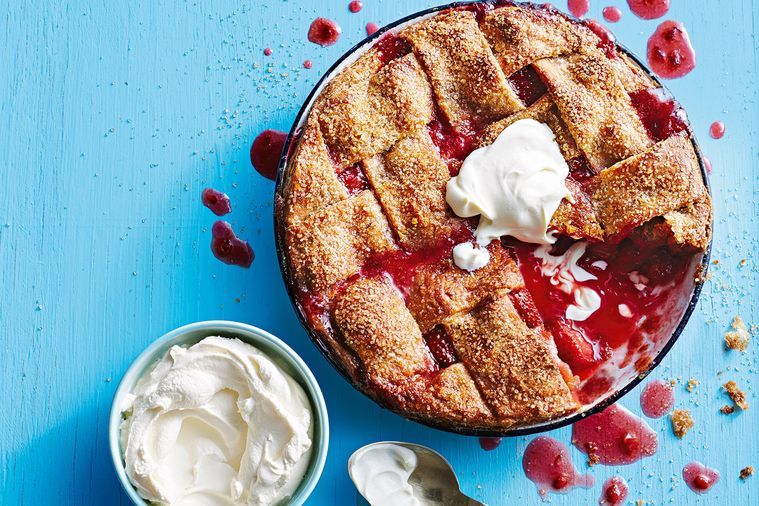 Dessert Recipes - Strawberry, ginger and honey pie with golden spelt crust
Women‍‍`s Corner
February 13, 2023
Produce Awards Earth category 2015 winner, Wellington Apiary prickly box honey, is the finishing touch to this flaky spelt pastry and strawberry pie, says delicious.
Ingredients:
- 500g strawberries, hulled, halved if large
- 1/2 cup (175g) Wellington Apiary prickly box honey
- 1/2 cup (110g) caster sugar
- 1/4 cup (35g) cornflour
- 6 pieces crystallised ginger, sliced
- 2 tsp finely grated ginger
- 1 egg
- 1 tbs demerara sugar or raw sugar
- Sour cream, to serve
You can read Mediterranean Pasta Salad
SPELT CRUST:
- 375g spelt flour, plus extra to dust
- 1/4 cup (55g) caster sugar
- 250g cold unsalted butter, cut into 2cm pieces
- 1/4 cup (60ml) apple cider vinegar
Method:
1. For spelt crust, combine spelt flour, caster sugar and 1/2 tsp fine sea salt in a bowl. Add butter and toss to completely coat. Turn out onto a cool, clean work surface, then, using a pastry cutter, cut the butter into the flour until it resembles very coarse crumbs (leave some big pieces of butter, as this will ensure a flaky crust).
Combine the vinegar, 2/3 cup (165ml) chilled water and 4 ice cubes in a jug. Make a well in the centre of the flour mixture, then add 2 tbs vinegar water at a time, carefully folding the flour mixture into the water, until all the water is used (discard ice cubes) and you have a rough dough. Add a little extra water if needed. Divide the pastry into 2 portions and enclose in plastic wrap. Chill for at least 1 hour or up to 2 days.
You can read Pecan chocolate bread and butter pudding
2. Roll out 1 portion of pastry on a lightly floured work surface to a 3mm-thick circle and use to line a 22cm pie pan. Chill for 30 minutes. Roll out the remaining pastry until 3mm thick and cut into eight 4cm-wide strips. Place on a baking-paper lined baking tray and chill for 30 minutes.
3. Preheat the oven to 200°C. To make the filling, place strawberries, honey, sugar, cornflour and all ginger in a bowl, stirring to coat, then spoon into pastry case. Arrange pastry strips in a lattice pattern over filling, pressing sides and strips together to seal. Trim excess pastry and discard.
Lightly beat egg with 1 tbs water, then, using a pastry brush, brush eggwash over pastry to coat. Scatter with demerara sugar. Place pie on a baking tray, then bake for 20 minutes or until starting to colour. Reduce oven to 180°C and bake for a further 30 minutes or until dark golden and bubbling. Remove from oven and rest for 30 minutes.
You can read Gluten Free Decadent Chocolate Chip Scones
4. Serve pie with dollops of sour cream.
This recipe is taken from https://www.delicious.com.au/recipes/