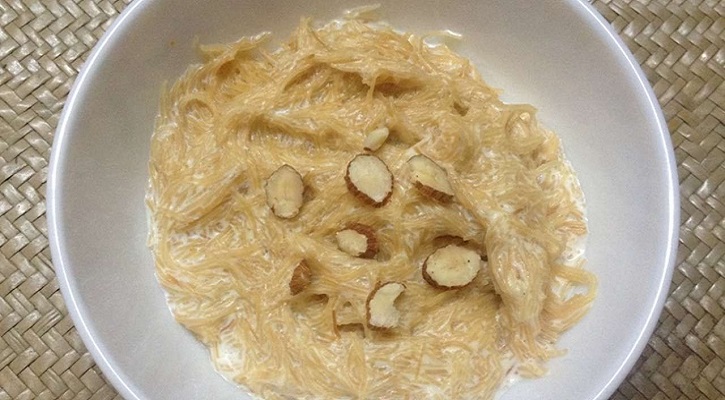 Bangladeshi Sweet Vermicellis
Women‍‍`s Corner
September 8, 2022
Eid wouldn't be complete without something sweet to start the day. It's very specific Bengali dessert made from roasted vermicelli noodles, spiced milk and cream with noodles of sugar.
Ingredients:
- 100g vermicelli, broken into pieces for roasting
- 1 tbsp ghee
- pinch of saffron
- 1 bay leaf
- 1 cinnamon stick
- 2-3 cardamom pods, crushed
- 1 star anise
- 300ml whole milk (plus extra if needed)
- 200ml single cream
- 3-4 tbsp sugar
Read More: Relationship Between Coronavirus, Nutrition and the Immune System
Method: In a frying pan, melt the ghee over a medium heat and roast the vermicelli noodles for up to 5 minutes until it turns golden. Take off the heat once it's done. In a separate pan, heat the milk and cream with saffron, sugar and whole spices and let it gently simmer for 5 minutes.
Once the milk and spices have completely combined, pour in the vermicelli and fold in.Continue to cook for 5 minutes over a medium-high flame. Keep a watchful eye on the shemai at this point because the milk has a tendency to split or burn at this point. It doesn't take very long for the dessert to thicken. Serve immediately. When reheating, add extra milk to prevent the shemai from drying.
This recipe is taken from http://zuranazrecipe.com/